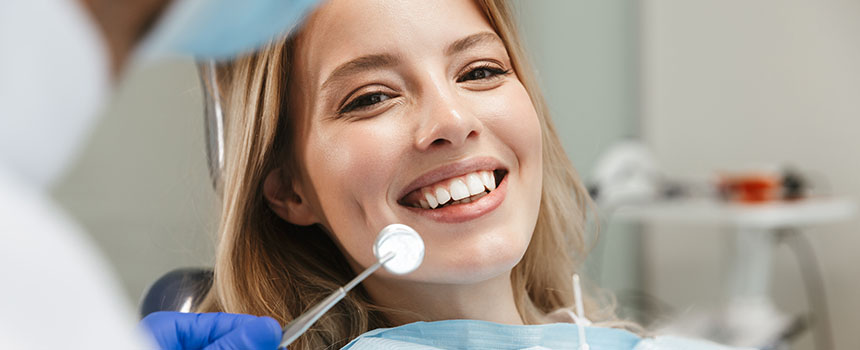 General Dentistry
At our practice, your oral health and well-being is our top priority. We believe that maintaining good oral health isn't as simple as just brushing your teeth. There are various steps that you should follow to maintain healthy gums and teeth. To avoid cavities and oral diseases, you should brush and floss regularly, and visit your Dentist at least twice a year.
We offer the following General Dentistry Services:
Root canals:
Root canal treatment eliminates bacteria from an infected root canal, prevents reinfection of the tooth, and saves the natural tooth. During a root canal, the infected pulp is removed. Next, the affected tooth is disinfected, cleaned, and sealed with a filling.
Fillings:
If you have a cavity that isn't too severe, we will most likely treat it using a dental filling. In this process, we remove the decayed part of the tooth and seal the area with a filling. We also use fillings to repair cracked or broken, and teeth that have been worn down from habits like nail-biting or teeth grinding.
Extractions:
We do our best to save all teeth as there is nothing better than a healthy tooth. However, when there is extensive trauma, decay, or a fracture to a tooth, we may advise a tooth extraction. Some people may also have impacted wisdom teeth that require extraction.
Crowns:
Crowns are an ideal way to fix damaged teeth. Teeth that are cracked, fractured or discoloured and all benefit from crowns. Our quality crafted crowns and bridges will restore your smile in no time.
Find out more >
Implants:
Dental implants offer a more permanent and stable solution for those with damaged or missing teeth. Dental implants are metal structures that act as replacement tooth roots inserted into your jaw. The screw-like tooth root provides an anchor for personalised crowns that fit into your mouth. Implants are also advisable if bridges or dentures are not an option.
Bridges:
A dental bridge is a false tooth that is held in place by the abutment teeth on either side of the gap. Bridges are typically made from porcelain- a material that matches with your natural teeth.
Find out more >
Clear aligners:
Clear aligners are a great alternative to metal braces for adults and teenagers. They are virtually unnoticeable, and a convenient way to improve your smile. It is a custom orthodontic treatment specifically designed to match your unique oral needs.
Find out more >
Teeth Whitening:
If you have unsightly discolouration on your teeth, you may want to consider teeth whitening. Our teeth whitening procedures are a simple, fast, and easy way to get that dazzling smile you've always wanted!
Find out more >
Full and partial dentures:
Dentures are an excellent way to restore health, functionality and aesthetics to your smile. A well-made denture can help you speak and eat more comfortably. Replacing missing teeth with dentures will also enhance your overall appearance and help you smile with confidence.
Find out more >
Mouth guards:
Mouthguards are coverings worn over teeth, often used to protect teeth from injury during sports, TMJ Disorders and teeth grinding. The Gentle Dentist creates custom-made mouthguards that fit comfortably and suit your needs.
Find out more >
Dental cleaning and scaling:
This generally involves an examination before we do the cleaning. During the examination, we check your teeth for cavities, plaque and tartar. For the cleaning phase, we use a scaler to remove tartar and plaque build-up. A gritty toothpaste and high-powered electric toothbrush are then used to further clean the teeth. Finally, we floss the teeth if necessary.
Digital dental x-ray imagery:
X-rays are a crucial part of a patient's dental treatment plan. X-rays are diagnostic, but they can also be preventative by helping us diagnose potential oral issues before they become a major problem. We used state-of-the-art Digital X-rays to help detect cavities, help diagnose periodontal disease and check the health of tooth roots, and the bones surrounding teeth.
Contact The Gentle Dentist and she will educate and advise you about your oral health needs and develop a daily oral health routine to keep your smile healthy and beautiful.