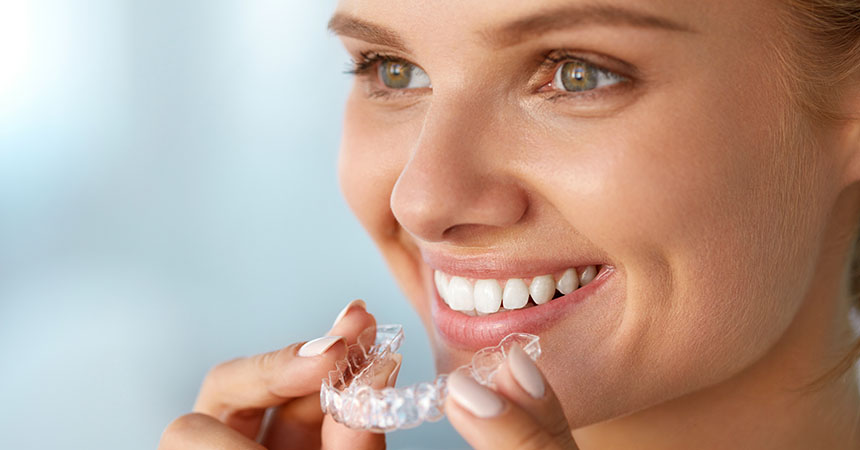 Clear Aligners
What are Clear Aligners?
Clear Aligners are an advanced orthodontic technology that moves your teeth with a series of aligners that are crystal clear, removable and comfortable.
Clear aligners are a great alternative to metal braces for adults and teenagers. They are virtually unnoticeable, and a convenient way to improve your smile. It is a custom orthodontic treatment specifically designed to match your unique oral needs.
How does Clear Aligners work?
Step 1: Firstly, The Gentle Dentist will examine your teeth and bite. Next, she will show you how the treatment works and advise if you are a good candidate. A digital scan or impression will be taken of your mouth.
Step 2: A customised 3D mock-up of your treatment plan will be created.
Step 3: You will start wearing the clear aligner sequentially for two weeks, and then change to the next aligner until your treatment is complete. You will have to occasionally visit The Gentle Dentist for check-ups, so she can monitor your progress. Check-ups usually take place every six weeks or so. For the best results, you should wear your aligners for a minimum of 22 hours per day, throughout your entire treatment.
The benefits of Clear Aligners
Invisible: clear aligners are virtually invisible and conceal the fact that you are undergoing orthodontic treatment.
Removable: The aligners are very easy to remove, allowing you to eat and continue your usual hygiene routine of brushing & flossing as normal.
Fewer Dental Appointments: Your orthodontic treatment is pre-planned, so you already know the final outcome before treatment has even begun.
Comfortable: Treatment is almost completely painless because it uses very small amounts of pressure to gently & progressively correct dental misalignment.
Affordable: Clear aligners are more affordable than overseas brands, and you can pay as you go and when you get your new aligners.
Predictability results: Clear aligners allow you to view your final smile before you start your treatment.
Are Clear Aligners the right treatment for me?
Due to the unique circumstances behind each patient, you need to consult with a Dentist or Orthodontist to determine if the treatment is suitable for you. After an assessment, The Gentle Dentist will be able to tell you if it is the right orthodontic treatment for you.
In general, clear aligners corrects the following dental problems:
Crowding
Gaps in teeth
Minor bite problems (overbite, underbite, crossbite, or open bite)
Maintaining the results
Teeth have a way of shifting back after you've gone through the work to straighten them out. The Gentle Dentist will talk to you about what needs to be done after your treatment to prevent this. Usually, this means wearing your final set of clear aligners for a bit longer and then transitioning to wearing a retainer.