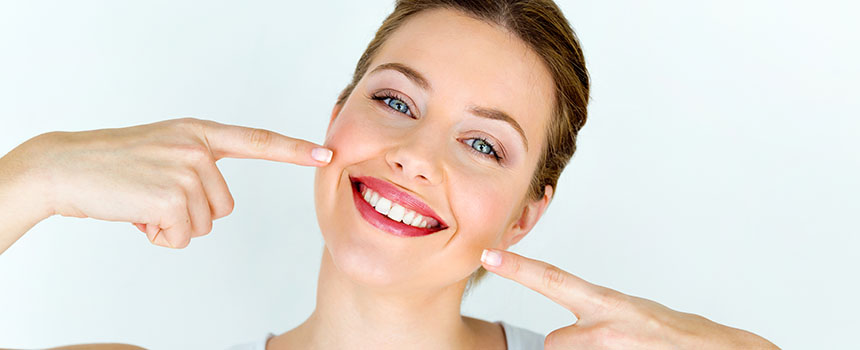 Teeth Whitening
If you have unsightly discolouration on your teeth, you may want to consider teeth whitening. Our teeth whitening procedures are a simple, fast, and easy way to get that dazzling smile you've always wanted!
In-office teeth whitening
Before we begin the whitening, we will do a scale and polish to make sure all extrinsic staining and buildup is removed to optimize the final result.
During the whitening procedure, we cover your lips, mouth and gums, leaving only your teeth exposed. Next, we use Pola Office whitening- this scientifically advanced teeth whitening procedure uses the latest in teeth whitening technology to provide you with a smile brighter than ever before.
Pola Office Whitening is applied in 3 sessions of 20 minutes each. The gel penetrates your teeth and breaks down discolouration and stains. You can rest assured that our in-office method is quick, safe and painless. Results are immediate and long-lasting.
All our in-office teeth whitening sessions are done by our Oral hygienist, Naomi Meyer. Naomi will only be available on certain days at the practice. To check her availability or book a session, click here.
At-home teeth whitening
A-home whitening is a less expensive option than the in-office option, which you can perform in the comfort of your own home. The at-home system is surprisingly effective. It uses a Tray Whitening system which is quite effective, although results aren't immediate.
A custom-made, invisible tray is designed for you. The whitening gel is applied to the tray and then inserted into your mouth. The tray must be worn during the day or night to activate the whitening process.
Results are excellent, but only visible in 7-10 days time. The tray system is ideal for maintaining your white smile. For the best results, the tray should be used after an in-office whitening procedure is completed.
Contact The Gentle Dentist, for teeth whitening treatments that will transform your smile!.